Wow! One minute I was at the beginning of this week, then I blinked. Now it's over. Holy timewarp!
I guess the distortion of time can be attributed to how freaking busy I was all week. Who has time take it easy and let the time pass slowly when they're (1) in the early stages of taper crazies and (2) in the final week of prep for the *biggest exam of their entire life*?
So here's how it went down:
Monday:
40 minute Insanity video + ten minutes of yoga. I did manage to go to my Art History class as well as the evening reading group. But one of the examiners for my exam was in the reading group and actually laughed (in a snickering kind of way) at me. I assume it was because I looked a little... uh... disheveled. Wash my hair? I ain't got time for that.
Tuesday:
8 mile run with a 3 mile pick up @ 7:30 in the middle miles. It was
hard.
I was just hanging on. When I came out of those doom and gloom tempo miles, I recovered quickly and got cheery again. I guess that's a good sign. Interestingly, I saw yet another of my examiners while out on this run. Is the universe trying to say something? I don't know, but I did give myself a hair cut in an effort to redeem myself after Monday night. I also did another Insanity video.
Wednesday:
Cross-training at the gym. 30 minutes on elliptical, 10 on stairclimber, then some plyometrics work. Freaked out and felt like I had to read *All The Papers* about Aristotelian science. Thank goodness this cutie pie is around to keep me smiling.
Thursday:
5 miles with middle 3 @ 7:45ish. Not as hard as Tuesday. Also not as long. But given how much Insanity I did on the other days, it's pretty awesome that my legs weren't more fatigued.
Friday:
3 super easy miles. I wanted to do 9:00 for each mile. I felt like I had to pull myself back from the 8:20-8:30 range. I guess that's okay. This is what taper does to you, right? When I got home I learned that my exam would begin on
Sunday
instead of Monday as was the plan since May. It didn't actually make a difference in terms of my preparation (I'm not going to become any better prepared in 24 hours), so I just rolled with it. The only hitch was that I also had a race to run on Sunday morning, so I would have to get home from the race pretty quickly in order to start the exam at noon. *breathe in, breathe out, gaze at morning glories*
Saturday:
Stretching and expoing. I worked at Starbucks for a few hours and then headed over to the expo for the Perfect 10 Miler. I worked the Oiselle booth for about four hours. I had a blast (seriously, I love these girls), but my legs were pretty tired by the end of it. Bonus: I got a 10 minute back/shoulder massage from a tiny ninja!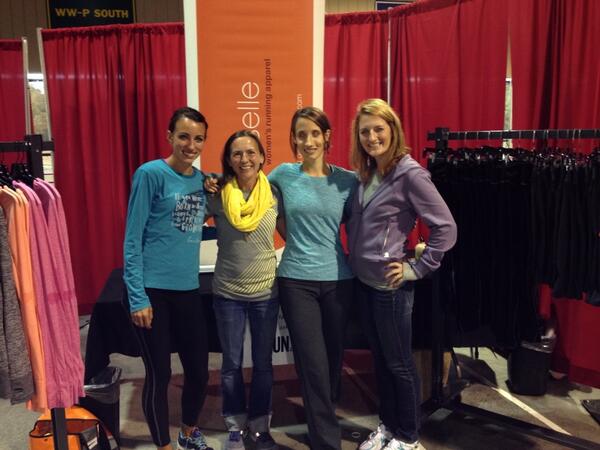 Lauren, Jen, Catherine, and moi
Sunday:
1.5 mile warm up, 10 mile race (1:22:02), .5 mile cool down. I'll do a race recap soon! After the race, I zoomed home, got a shower, and then started obsessively refreshing my email in anticipation of my exam questions. They came promptly at noon (on the dot), which I should have expected because my advisor is beyond perfect with stuff like that. After soaking in the prompt ("answer AT LEAST TWO of the following questions"--seriously... "at least two"? Is this a trap?), I got to work.
And I wrote.
And I wrote.
And then it was 10 hours later and I had 7,000 words, but I hadn't eaten a thing.
Cook eggs. Sleep for 6 hours. Find a snuggle buddy.
She napped while I wrote. (After she walked across the keyboard a few times, of course.)
Start working again.
And I wrote.
And I wrote.
And then it was 23 hours into the 24 exam and I had 8,900 words. Nothing else to say, so I submitted it.
And
that
, my friends, was the real race of Sunday (into Monday). The crazy part is that I'm not even done yet. On Thursday I have to go meet with my committee and discuss (read: defend) my written answers. If they all agree that I didn't screw it up too badly, then they might pass me. Lord, let me have done okay, and let me sound decently intelligent on Thursday!
Keep your fingers crossed for me! I've worked so hard for this!
I will definitely report back about the outcome!
Go Fast. Take Chances.