After
last week's whirlwind of activity
, this week was practically a stagnant pond. But even in the relative stillness, the little bit of activity I forced my body through made it very, very angry. My legs finally protested all the running and cross-training.
So I did the only thing I could... I kept running.
Monday:
5 miles super duper easy; 1000m swim; 30 minutes cycling
Tuesday:
6 miles of hills. This was supposed to be a Princeton Intervals workout (8 x 700m on a hill) but I bailed out after 3 of the repeats. It was too fast and too hard for me. So I took an easy run through the woods instead.
Wednesday:
Rest. Went sailing with Keith.
Thursday:
a.m.: 7 miles total, 4 x 1 @ 7:15ish. First time on the track in a while. It would have been enjoyable if it wasn't
hotter than hell.
Okay, maybe just more humid than hell. Plus, I decided it would be good to not look at my watch for the first mile (you know, so I wouldn't psyche myself out...), and ended up running it at 6:27. That sort of messed me up for the rest of the repeats. Oops.
p.m.: 5 miles, super easy, with the Princeton Running Co. group runners. I got a chance to try out the new Saucony Guide 6. It reminded me of the Saucony Hurricanes that I used to run in (that was my very first real running shoe). I love the feel of the Guide. It has slightly less stability than the Hurricane, but just enough for me. Plus, it really lightens up the strain that the Newtons have been putting on my Achilles tendons. So I decided to buy a pair...
Friday:
1 hour cycling and 500m swim.
Saturday:
7 mile run. I actually wanted this to be my long run. I did the 7 mile loop and stopped for water. Just never went back out again. Oops. I'm not the only person who has crappy days like this, right?
Sunday:
14 miles LSD and 1 hour of yoga. This run was the most agonizingly boring activity ever. But I finished it. It's true what they say: Sometimes the best thing you can say about a run is that it's done.
Total Mileage: 44
________________________________________________
The take away:
I'm suddenly finding running to be boring. I don't know exactly why this is happening out of no where. Could it be related to the fact that I really had to take things so easy this week? Do I need new books on tape to revive my mental energy? I really struggle with running with other people because I just don't want to talk and usually don't even have much energy for listening. This needs to get better because the 20-milers are gonna be brutal if I'm bored.
The Sauconys are already making me feel better. I still have some tension in my Achilles, but I think it's just the normal strain after lots of miles instead of the scary oh-my-god-is-it-going-to-snap strain that I was feeling before. I still want to use the Newtons because they are so fun to run in--they just feel so different and fast--but I don't want to do anymore long runs in them.
My regular runs now involve running around a lake. I run around a friggin' lake just for a regular training run. That's kind of badass.
My love of the bike continues. I wish I could snuggle it at night.
Running struggles (i.e. boredom) don't have anything to do with my fitness level. Sure, I feel tired sometimes--like during my p.m. run on Thursday--but it's never really a matter of cardiovascular fitness or my muscles not measuring up. I feel increasingly confident that I am strong enough and fit enough to run a marathon. I know there's more I need than just physical strength and fitness (I need mental strength and fitness, at least), but I know I'm gonna get it. I have 11 more weeks to get it, and that's a lot of time.
I just want to note that if I were actually following my training plan I would have done only 30 miles this week. I went over by 14. (And this was my first 40+ week.) I'm wondering if this is a bad thing. I mean, it could explain why I feel so tired (so many extra miles added on top of all the fast miles last week). In any case, I think I'm gonna make next week a cut back week.
______________________________________________
I've been pretty giddy this week for two other reasons. First, as I mentioned last week, I was accepted to the Oiselle team. Sally Bergesen (badass mother runner Oiselle's CEO) welcomed all of the new birds on the
Oiselle blog
on Thursday. Uhm, I'm on the same running team as her? What
what?
This is going to be such a cool year.
Second, I signed up for the
Picky Club over at Picky Bars
. I've been having some rather alarming stomach issues lately--like really sharp pains, indigestion, and acid reflux. So I've pretty much become terrified of food. All food except fruit and peanut butter, that is. In a desperate move to find some calorie dense
something
that could fuel my runs, I decided that it's finally time for me to try Picky Bars. For the uninitiated: Picky Bars are vegan and gluten-free, created by a pro-athlete to feed her celiac triathlete husband. It's serious fuel for serious athletes with serious stomach problems. If it's good enough for pros, it's good enough for me.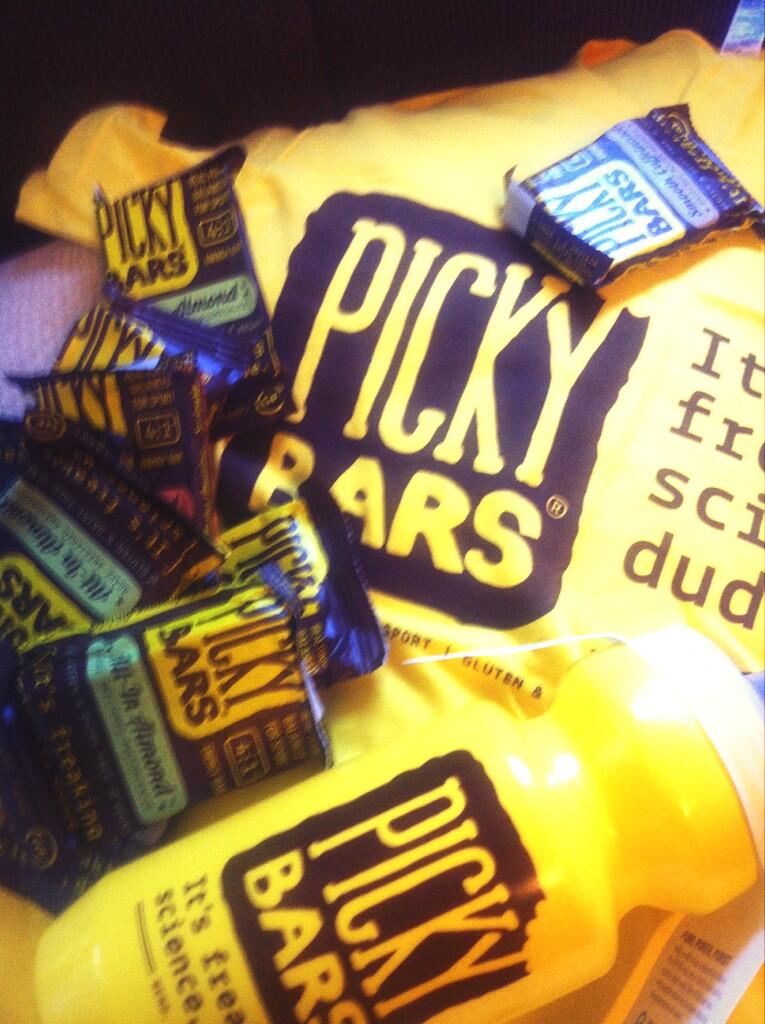 So far I have tried two flavors: Lauren's Mega Nuts and All About the Seed. I love both and I don't get sick after eating them. Huge victory.
I hope you all had a good week of training, recovery, or nursing injuries. We're always in one of those phases, right? Whatever it is for you, may it be productive!